Cablefix
Adhesive and flexible Cablefix support for electric cables.
Description
Cablefix adhesive cable holder. Very easy to install, since its flexible flaps make it easy to remove the cable and place it back in.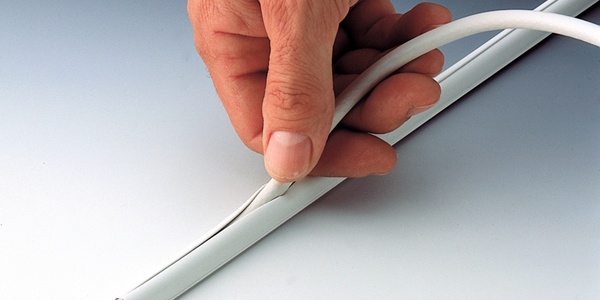 No tools are required, it can be easily cut to fit with scissors.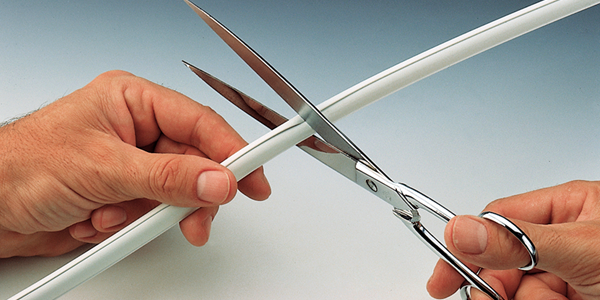 Thanks to its flexibility, it can be used on slightly curved or uneven surfaces.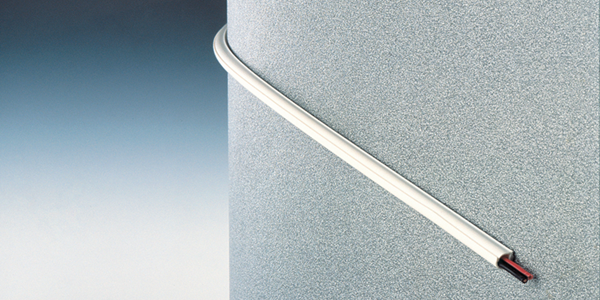 Properties
Available sizes: 5.5x5 mm, 8x7 mm and 10.5x10 mm.
Rigid base and flexible surrounding sides.
Complies with European Directive 2011/65/EU on the restriction of the use of certain hazardous substances (ROHS).
Complies with the UNE-EN-60695 standard.
Insulating and self-extinguishing material with EN 60695-2-12 (degree of severity: 750ºC).
Operating temperature -5 ºC, + 60 ºC.
Range of joining accessories available for different finishes.
Applications
Fixing and/or concealing electric cables.
Installation
Clean the surface on which the Cablefix will be fitted, mainly focusing on spaces where dust may remain.
Measure the area where the Cablefix will be fitted and cut the required pieces to the desired measurements.
Peel off the adhesive paper and press it down to ensure that the Cablefix is well attached.
Pass the cable through the Cablefix.
For a more aesthetically pleasing and integrated visual finish, place the relevant joints on Cablefix crossings, elbow joints and intersections.
Tips and tricks
Attach joints to crossings, elbow joints and intersections for an aesthetically pleasing finish.
Measures
| PROFILE | MODEL | LENGTH | Fixation | COLORS |
| --- | --- | --- | --- | --- |
| | MOD. 2200 | tira 1 m. | Adhesive | |
| | MOD. 2201 | tira 1 m. | Adhesive | |
| | MOD. 2202 | tira 1 m. | Adhesive | |
Logistic data
| PACKAGE PICTURE | EAN PRODUCT | ARTICLE | VERSION | COLOR/FINISH | SALES UNIT | PACKING CAPACITY | EAN BOX |
| --- | --- | --- | --- | --- | --- | --- | --- |
| | 8414419220027 | 2200-2- | 000 | white | blister pack 4 metres | box 20 blister packs | 8414419008144 |
| | 8414419220027 | 2200-2- | 010 | white | blister pack 4 metres | box 10 blister packs | 8414419806665 |
| | 8414419220041 | 2200-4- | 000 | brown | blister pack 4 metres | box 20 blister packs | 8414419808669 |
| | 8414419220041 | 2200-4- | 010 | brown | blister pack 4 metres | box 10 blister packs | 8414419806689 |
| | 8414419220065 | 2200-60 | 000 | beige | blister pack 4 metres | box 10 blister packs | 8414419834743 |
| PACKAGE PICTURE | EAN PRODUCT | ARTICLE | VERSION | COLOR/FINISH | SALES UNIT | PACKING CAPACITY | EAN BOX |
| --- | --- | --- | --- | --- | --- | --- | --- |
| | 8414419220126 | 2201-2- | 000 | white | blister pack 4 metres | box 20 blister packs | 8414419008151 |
| | 8414419220126 | 2201-2- | 010 | white | blister pack 4 metres | box 10 blister packs | 8414419806702 |
| | 8414419220140 | 2201-4- | 000 | brown | blister pack 4 metres | box 20 blister packs | 8414419008168 |
| | 8414419220140 | 2201-4- | 010 | brown | blister pack 4 metres | box 10 blister packs | 8414419808652 |
| | 8414419220164 | 2201-60 | 000 | beige | blister pack 4 metres | box 10 blister packs | 8414419834750 |
| | 8414419220171 | 2201-70 | 010 | metallised grey | blister pack 4 metres | box 10 blister packs | 8414419808676 |
| | 8414419220133 | 2201-30 | 010 | black | blister pack 4 metres | box 10 blister packs | 8414419806733 |
| PACKAGE PICTURE | EAN PRODUCT | ARTICLE | VERSION | COLOR/FINISH | SALES UNIT | PACKING CAPACITY | EAN BOX |
| --- | --- | --- | --- | --- | --- | --- | --- |
| | 8414419220225 | 2202-2- | 000 | white | blister pack 3 metres | box 20 blister packs | 8414419008175 |
| | 8414419220225 | 2202-2- | 010 | white | blister pack 3 metres | box 10 blister packs | 8414419808683 |
| | 8414419220249 | 2202-4- | 000 | brown | blister pack 3 metres | box 20 blister packs | 8414419808690 |
| | 8414419220249 | 2202-4- | 010 | brown | blister pack 3 metres | box 10 blister packs | 8414419809178 |
| | 8414419220263 | 2202-60 | 000 | beige | blister pack 3 metres | box 10 blister packs | 8414419834828 |
| | 8414419220270 | 2202-70 | 010 | metallised grey | blister pack 3 metres | box 10 blister packs | 8414419809185 |