Coverstrips
same level, maximum spacing of 8 mm Adhesive
Description
Metallic coverstrips for the transition between floorings of the same level and maximum spacing of 8 mm, adhesive fixation.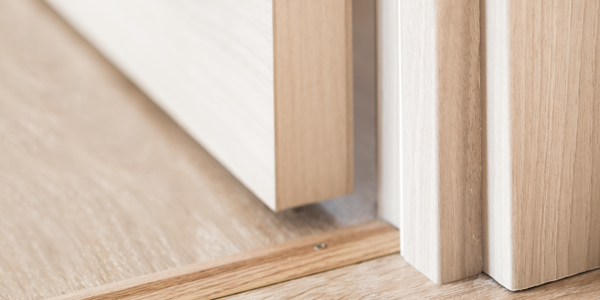 Properties
Coverstrips to cover the transition between floorings with a maximum spacing between floorings of up to 8 mm.
Humidity and wear resistant.
Strong structure.
Available sizes: 985 mm and 820 mm.
Screw fixation (screws included).
Applications
Profile of the transition between floorings at different levels.
Installation
Thoroughly clean the surface on which you will be installing the coverstrips.
Insist on spaces where dust can remain.
Place the coverstrips between the two floorings, making sure they are straight and aligned.
If the coverstrips are longer than the desired length, mark the length desired and cut with a small hacksaw.
Peel off the protective paper from the adhesive and stick it tightly onto the desired position.
Tips and tricks
In case of application on uneven flooring and whenever the coverstrips do not come into full contact with the surface, you may apply some silicone to prevent the accumulation of dirt and dust.
Measures
| PROFILE | MODEL | LENGTH | Fixation | COLORS |
| --- | --- | --- | --- | --- |
| | MOD. 2124 | 82cm | Adhesive | |
| | MOD. 2125 | 98,5cm | Adhesive | |
Logistic data
| PACKAGE PICTURE | EAN PRODUCT | ARTICLE | VERSION | COLOR/FINISH | SALES UNIT | PACKING CAPACITY | EAN BOX |
| --- | --- | --- | --- | --- | --- | --- | --- |
| | 8414419212411 | 2124-1- | 000 | Steel | blister pack 1 unit | box 20 blister packs | 8414419804050 |
| | 8414419212411 | 2124-1- | 010 | Steel | blister pack 1 unit | box 10 blister packs | 8414419811096 |
| | 8414419212435 | 2124-3- | 000 | light wood | blister pack 1 unit | box 20 blister packs | 8414419804067 |
| | 8414419212435 | 2124-3- | 010 | light wood | blister pack 1 unit | box 10 blister packs | 8414419811102 |
| | 8414419212466 | 2124-6- | 000 | brass | blister pack 1 unit | box 20 blister packs | 8414419804074 |
| | 8414419212466 | 2124-6- | 010 | brass | blister pack 1 unit | box 10 blister packs | 8414419811119 |
| | 8414419212480 | 2124-8- | 000 | dark wood | blister pack 1 unit | box 20 blister packs | 8414419804081 |
| | 8414419212480 | 2124-8- | 010 | dark wood | blister pack 1 unit | box 10 blister packs | 8414419811126 |
| PACKAGE PICTURE | EAN PRODUCT | ARTICLE | VERSION | COLOR/FINISH | SALES UNIT | PACKING CAPACITY | EAN BOX |
| --- | --- | --- | --- | --- | --- | --- | --- |
| | 8414419212510 | 2125-1- | 000 | Steel | blister pack 1 unit | box 20 blister packs | 8414419804098 |
| | 8414419212534 | 2125-3- | 000 | light wood | blister pack 1 unit | box 20 blister packs | 8414419804104 |
| | 8414419212565 | 2125-6- | 000 | brass | blister pack 1 unit | box 20 blister packs | 8414419804111 |
| | 8414419212589 | 2125-8- | 000 | dark wood | blister pack 1 unit | box 20 blister packs | 8414419804128 |