Draft buster seals for doors and windows
Draft buster seals with brush
Description
Adhesive under-door draft buster seal with brush and plastic sheet.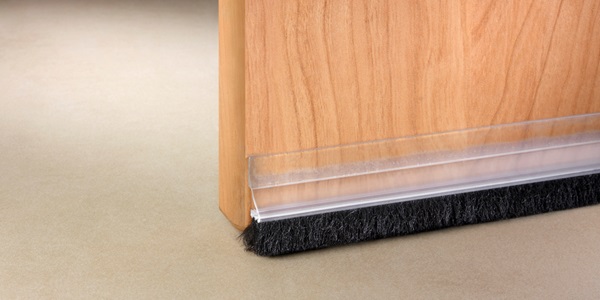 Properties
It prevents dust from entering and air from passing under the doors.
Thermal insulation.
Double brush with intermediate sheet.
Available in sizes: 1000 mm and 820 mm.
Applications
To be applied on all doors where air or dust can enter, insulating the room and maintaining the desired temperature.
Energy savings in heating and air conditioning systems.
Installation
Measure the width of the door and use a pencil to mark the draft buster seal with this measurement.
Remove the brush to one side and cut the plastic profile at the mark with a small saw.
Then, with a pair of scissors, cut the brush to the same size.
Clean with a cloth with alcohol the surface of the door where to place the draft buster seal.
Peel off the protective paper from the adhesive and, allowing the brush to rest on the floor, fix the draft buster seal in the desired area.
Press down hard.
Measures
| PROFILE | MODEL | LENGTH | Fixation | COLORS |
| --- | --- | --- | --- | --- |
| | MOD. 2150 | 90cm | Adhesive | |
| | MOD. 2156 | 82cm | Adhesive | |
| | MOD. 2157 | 100cm | Adhesive | |
Logistic data
| PACKAGE PICTURE | EAN PRODUCT | ARTICLE | VERSION | COLOR/FINISH | SALES UNIT | PACKING CAPACITY | EAN BOX |
| --- | --- | --- | --- | --- | --- | --- | --- |
| | 8414419215603 | 2156-0- | 000 | transparent | blister pack 1 unit | box 10 blister packs | 8414419823211 |
| | 8414419011458 | 2156-2- | 000 | white | blister pack 1 unit | box 10 blister packs | 8414419823235 |
| | 8414419011465 | 2156-8- | 000 | light wood | blister pack 1 unit | box 10 blister packs | 8414419823259 |
| | 8414419011472 | 2156-9- | 000 | dark wood | blister pack 1 unit | box 10 blister packs | 8414419823273 |
| PACKAGE PICTURE | EAN PRODUCT | ARTICLE | VERSION | COLOR/FINISH | SALES UNIT | PACKING CAPACITY | EAN BOX |
| --- | --- | --- | --- | --- | --- | --- | --- |
| | 8414419215702 | 2157-0- | 000 | transparent | blister pack 1 unit | box 10 blister packs | 8414419823303 |
| | 8414419011489 | 2157-2- | 000 | white | blister pack 1 unit | box 10 blister packs | 8414419823327 |
| | 8414419011496 | 2157-8- | 000 | light wood | blister pack 1 unit | box 10 blister packs | 8414419823341 |
| | 8414419011502 | 2157-9- | 000 | dark wood | blister pack 1 unit | box 10 blister packs | 8414419823365 |