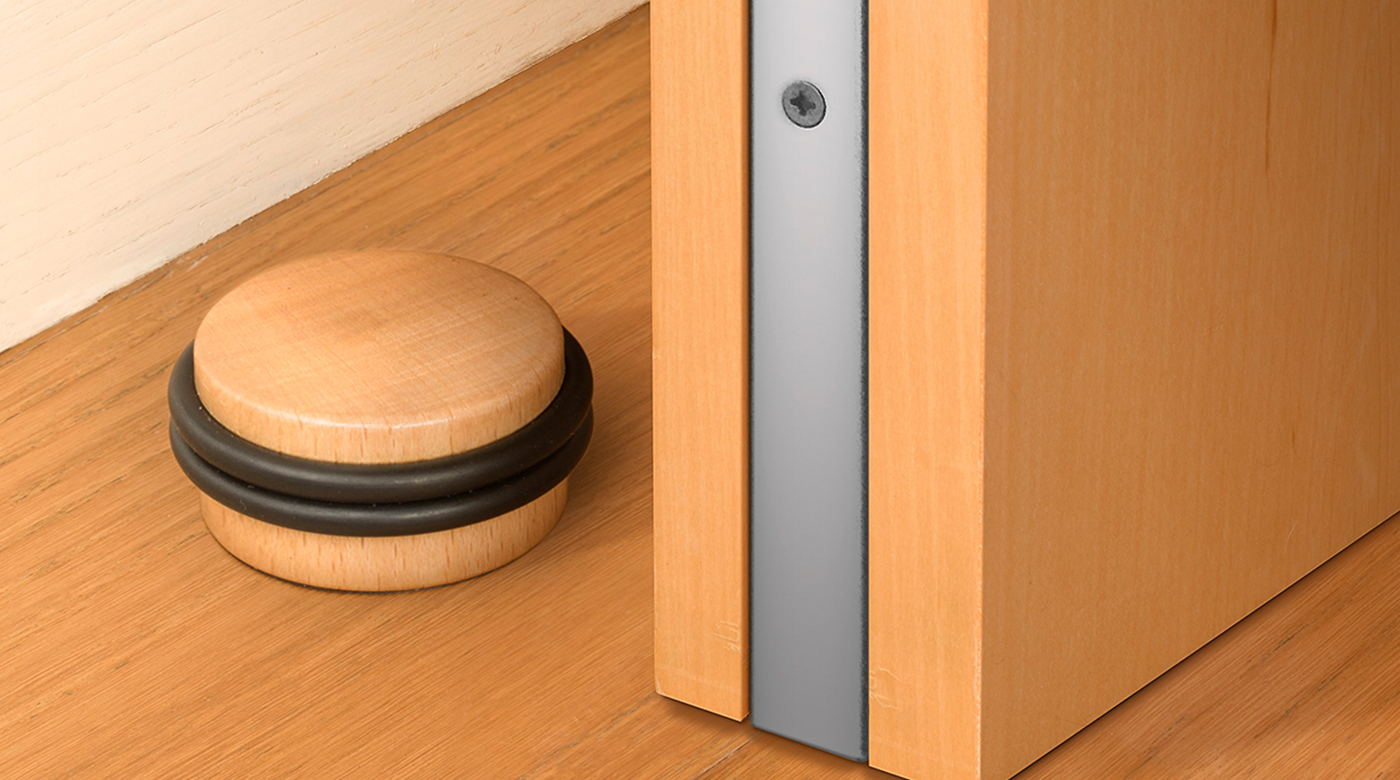 How to install a door stop
To keep walls protected from knocks caused by door handles, it is essential to install a door stop. It is a very simple and economical task to perform, although it is important to know how to do it correctly and what types of door stoppers are available in order to know which one best suits your needs.

The first thing to decide is whether you want the chosen stop to be fixed with adhesive bonding or with a screw. The second thing to decide is whether it should go on the floor or on the wall. And finally, it must be decided which functionality and finish suit your application best.

Here's how to install them:

Adhesive door stops
incorporate a self-adhesive film for quick installation. They are quick to install without the need to drill holes in tiles or floors. Before installation, it is very important to clean the surface with a cloth and alcohol, to ensure that everything is clean and there is no dirt that might affect the adhesive power of the door stop.

Screw-on door stops
require that a hole be drilled for installation. A drill with a suitable drill bit for the type of surface and hole-size of the door stop, a plug and a screw are required. It is recommended that the hole is drilled in the joint between tiles to avoid any damage, as if it needs to be removed anytime in the future, the hole left can be easily filled in.

Whether an adhesive or screw-on door stop is used, prior to installing, it is always advisable to first test the exact spot where it should be installed, by checking the minimum point at which the door handle does not touch the wall. Another fundamental recommendation is to place the stop as far away from the door hinges as possible, i.e., as close as possible to the door handle, as this way no more force is applied to the door stop than is necessary.
If a screw-on wall mount is chosen for installation, it is advisable to use a metal detector to avoid accidents with water pipes or electricity cables.

It is normally overlooked the fact that there are different door stops according to their functionality, and depending on your needs one model may be more suitable than another:

Door stops with shock absorbers
are the most common, they incorporate a rubber strip or o-ring that cushions the impact of the door.

Flexible door stops
are more resistant to door-banging as they feature a softer material.

Foam bumper door stops
have a foam strip to cushion the blow, and do so quietly.

Door stops with shock absorbers
prevent the door from banging and reduce impact thanks to an internal mechanism, as the shock absorber strip gently accompanies the door until it comes to a stop.

And as for finishes... there is a colour to suit all tastes! There is a wide variety of colours and finishes to choose from, including different shades of wood, chrome, metal, painted, transparent, etc. It all depends on whether we want it to match the floor or the door handle and fittings.